City Grids 2007 Journal Quilt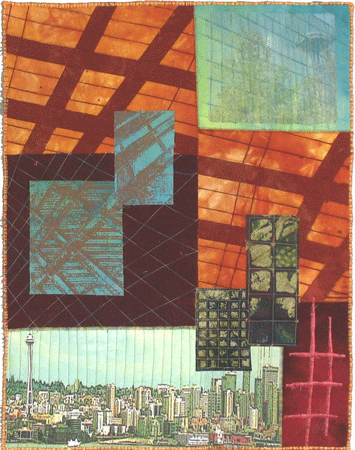 2007
Creative Quilting techniques used: discharging fabric (page 254); screen printing (page 269); manipulated digital images printed on fabric with an inkjet printer (page 40)

Photographing grids found in the architecture of cities is a passion of mine. We recently moved to the Northwest and have enjoyed visiting Seattle, where I have taken many photos.

This summer, I took a Thiox discharge class at the College of Arts and Crafts here in Portland. I created a screen using masking tape of different sizes. The design was a grid, and the resulting piece looked like windows on a highrise building. I decided to use this fabric with some photos of Seattle to create an architectural memoir of Seattle.

A photo of the Seattle skyline, taken from the ferry, was manipulated in Photoshop and printed on fabric. Another photo of a reflection of the space needle in the glass of a highrise building was printed on organza.

The new library in Seattle is an architectural wonder, designed by renowned Dutch architect Rem Koolhaas. I have taken many wonderful photos of the diamond grids that can be seen in every window. A highrise in the background adds another element of architectural interest. I created a Thermofax screen from one of the photos manipulating it in Photoshop. I screen printed the image on fabric and then cut it in to two pieces for collaging to the Journal Quilt.

I was looking through my stash of fabrics that had been screened printed with found objects and added some of the grids that remind me of high rise window grids and the reflections that we see. I am always intrigued by the visual of the organic world reflected in highrise windows.